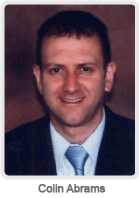 Colin Abrams has been trading the market actively for over 25 years, the past 20 of which have been on a full-time basis. He trades financial indices, stocks, commodities and currencies. In 2001 he completed a three-year degree in Technical Analysis called a CMT (Chartered Market Technician) run by the Market Technicians Association (MTA) in New York. He also consults to fund managers.

He has made regular appearances on CNBC Africa and Summit TV, as well as financial radio. His work has also appeared on numerous local and international financial websites. He wrote a weekly technical analysis column in FinWeek magazine from 2001-2011, and currently writes weekly in Business Report (SA's largest financial daily). Finally, he holds a masters degree in Industrial Psychology.

He is the developer of the Paragon Trading Toolkit for Metastock. Click here for more details.

Note: Colin has developed a three-day course in Technical Analysis, Advanced Technical Analysis and Money Management, and Trading Psychology which he trains approximately every three months. Attendees at his courses range from members of the general public to professional traders and fund managers. He has trained his courses at financial institutions including Rand Merchant Bank (RMB), RMB Asset Management, Nedbank Treasury, Standard Private Bank, Absa Capital, Investec Bank, Oasis Crescent Asset Management, and BOE Securities. For more details about the course please click here.